I explore visual and interactive ways of explaining math and computer algorithms, especially those used in computer games. Whereas many MOOCs are exploring a classroom style of learning with videos and assignments, I'm instead exploring an on-demand style of learning single topics with text, hypertext, and interactive diagrams. I want to learn by playing with things.
Pathfinding
Start with breadth first search
Distance to any
Grid optimizations
All pairs
Map representation

Grid Math: Square, Hexagon, Triangle
Map algorithms?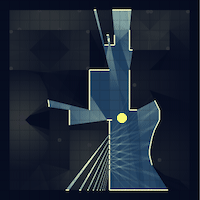 2D Visibility Algorithm
Map Generation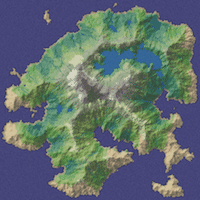 Polygon Map Generation
and demo
Simple map generation
zero code
Math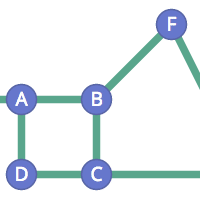 Intro to Graph Theory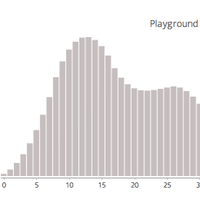 Probability for RPG Damage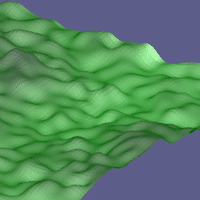 Noise functions and Map Generation
Making-of
- draggable markers
- float layout? - draggable numbers
Games
Other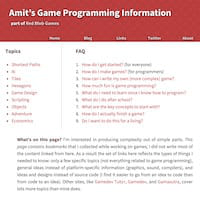 Amit's Game Programming Information
(links to resources)
I've been curating game development articles since 1990. All of my articles are available for free, with no signup and no ads. The main audience is independent, student, and hobbyist game developers, but I'd like to cover other math and computer science topics in the future. Some of the more popular pages:
In addition to helping game developers with my articles, I love to talk to people working with games and interactive education. Mostly it's informal chats over lunch, but occasionally I'll work with someone for a longer period of time.
Root-1 was building educational games for learning language, starting with vocabulary, spelling, and grammar, using machine learning to adapt to each student's needs. They're in Fast Company's list of the world's 50 most innovative companies, and tested their games in classrooms in several countries. Storylines, Word Joust, Word Kung Fu, and XWords are available on the web, Facebook, Chrome Web Store, and iOS. I worked Root-1 from 2010 until their acquisition by Edmodo in 2013.
Wild Shadow Studios was a 2-man indie game company building innovative multiplayer games. They created Realm of the Mad God, a cooperative massively multiplayer action / role-playing game, with thousands of concurrent players, and group battles with up to 85 players. Visit the web site and start playing in the browser, with no signup, no account creation, no email registration, no credit card required. Realm of the Mad God has gotten positive reviews from sites such as Rock Paper Shotgun and Ars Technica and Metacritic (score: 82), was a finalist in the Independent Games Festival 2012, and was nominated for the Game Developers Choice Online Awards. Wild Shadow Studios was acquired by Kabam in 2012. I worked with Wild Shadow Studios from 2007 to 2011.
If you're developing games in the San Francisco / San Jose area and want to chat, email me at redblobgames@gmail.com. I'm especially interested in game algorithms related to maps, procedural generation, and pathfinding, but love to chat about anything.
I've been helping people make games since 1990. I wrote games earlier in life, with Solar Realms Elite being the most well known, then worked on an environmental simulation game called BlobCity, then took a break for over a decade. The recent rise of indie, mobile, tablet, social, and web games have made me interested in game development again. My current passion is using interactivity on the web for learning, especially learning game algorithms. With modern web browsers, we can use explanations that don't follow the formats used in magazines, technical papers, and books. We can combine learning by reading, learning by watching, and learning by doing.
Code on my pages is open source, under either the MIT License or the Apache v2 License. Both allow use in commercial projects. Other projects are found at at github/amitp.
Ways to find me: